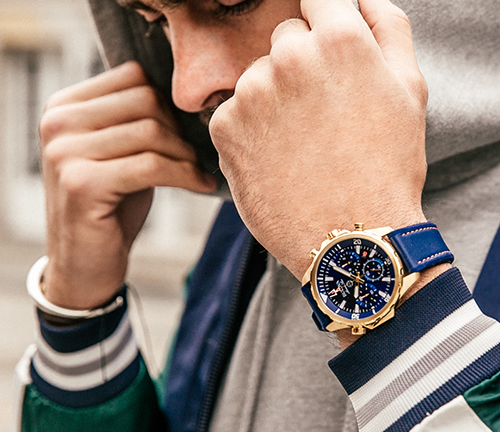 Bulova MARINE STAR - Watches for men and women
Bulova Marine Star: Elegant appearance on water as well as on land
The Marine Star collection not only impresses with groundbreaking technologies in the field of sports timekeeping, it also ensures an elegant appearance on both water and land. Because the sporty models captivate with their markant style and a special design. The watches of the Bulova Marine Star collection are all water resistant to at least 10 bar. read on >
Marine Star Collection
The Marine Star collection is not only impressive because of its pioneering technologies in the field of sports timekeeping. It also makes for an elegant appearance both on water and on land.
Performance functionality and waterproofness with at least 100 meters.
Sporty and attractive in a striking way with diver's watch function.
Collection includes 6 pointer chronographs
Manufactured in stainless steel or, on selected models, from Duramic™, a lightweight nylon/ceramic composite specially developed by Bulova, which is strong and durable.
Many models with rotating bezel to indicate elapsed time, securely bolted crowns and case bottoms, alarm functions and tachymeters.
Control of the chronograph
This 3-sheet chronograph with integrated stopwatch can measure and display time up to 11 hours/59 minutes/59 seconds and can measure in 1/20th second increments. To conserve battery power, the 1/20th second hand moves continuously for 30 seconds after starting and then stops at zero.
press push-piece A to start timing.
Press push-piece A again to stop the timing.
Press button B to reset the chronograph. All the chronograph hands will return to the zero position.
reading the chronograph
Minute counter (on 9 o'clock auxiliary dial)
1/20ths of a second display measures up to 1/20th of a second (on 3 o'clock auxiliary dial).
Normal second hand
second hand of the chronograph
Inside rotating bezel (crown turns the inner dial ring that measures the elapsed time).
Pull out the crown to set the time and date (to set the time to the first click position, to set the date to the second click position). When finished, return the crown to the normal position by pressing it twice)